■ Introduction
Introduction:
Wet Grinding Mills is mainly used for separation of gold, silver, lead, zinc, molybdenum, iron, copper, antimony, tungsten, tin and other minerals selected. With less investment, fast results, small footprint saving power, sturdiness and durability, ease of maintenance and high return on investment. It is the preferred production for alternative ball mill, is ideal for small and medium enterprises dressing.
Working principle:
1.Firstly the motor will transmit the motive power to reduction gears,under the drive of reduction gears that passing through large vertical spindle,then the power cabient transfers to above whippletree.
2.The whippletree pulls the two runner wheels clcokwise rotation,runner wheels are not only revoluting around the large vertical spindle but also could retating by themselves.
3.After adding into ore,the materials are under the extrusion of grinding roller weight to revoluting and rotating with runner wheels,when twisting that coming into being huge friction force with grinding base,after suffering repeated extrusion,rub,grinding that be crushed thoroughly.
4.Under the effection of grinding roller operating,the crushed materials and the water mixed intensively to float on it uniformly,then passing through the overflow discharge gate that setting up on the mill basin to discharge,after that enter into next operation procedure to process.
5.Coarse mineral was sank on the bottom of grinding base,goning on grinding and crushing,till the fineness could reach to standard floating on it.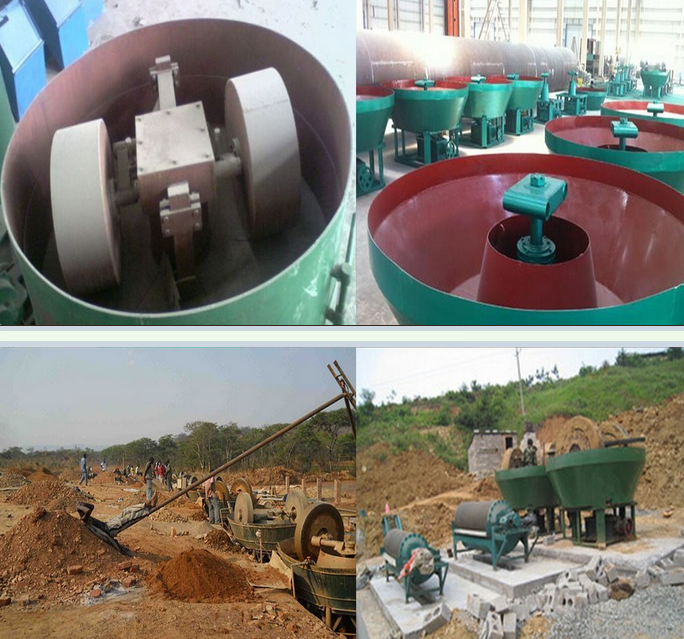 ■ Features
Mainly used for selection of iron ore, molybdenum ore ,lead ore ,zinc ore, antimony ore, gold ore.
Advantages of Wet Grinding Mills:
1) Small investment, high yield
2) Low-cost production, good benefits
3) Domestic alternative to the ball mill equipment
4) Easy installation & maintenance
■ Technical Data
Technical parameters of Wet Grinding Mills:
Model

Specification

Input size(mm)

Process ability

(t/h)

Speed

(r/min)

Motor

(kw)

Weight

(t)

1600

1600×400×±20

Less than 30mm

4

20-22

6-30

17

1500A

1500×400×±20

3

20-22

6-22

15

1500B

1500×350×±20

2.5-3

20-22

6-22

14

1500C

1500×300×±20

2-2.5

20-22

6-22

12.5

1400

1400×250×±20

1.5-2

16-18

6-18.5

9.5

1300

1300×250×±20

1.5

21-23

6-15

7.8

1200A

1200×220×±20

0.9-1.2

16-18

4-7.5

6.0

1200B

1200×200×±20

0.8-0.1

21-23

4-7.5

5.8

1100

1100×200×±10

0.6-0.8

16-18

4-5.5

5.5

1000

1000×200×±10

0.5

21-23

4-5.5

4.5

900

900×150×±10

0.3

17-19

3

3.2